Our Trip to Mexico, March 2010
Last Updated Sunday, April 25, 2010
March 20, 2010
Our Departure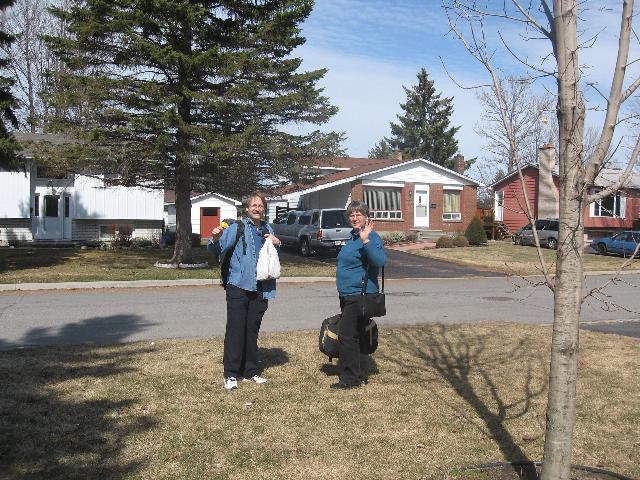 After weeks of settling details like getting passports, immunization shots, and plane tickets, Mary and I took off for Mexico. On foot. Only three thousand kilometers to go!
We were so busy getting our picture taken we missed the bus. Rather than wait another half hour and risk missing the plane, I slung Mary's pack over my shoulder and we walked to the mall for our connecting bus. Two and a half kilometers down...Rock and roll!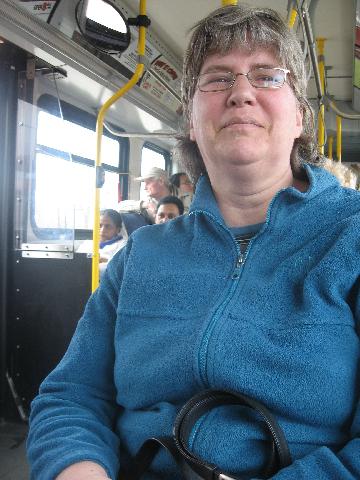 Okay, there was never any real danger we'd miss the plane; my schedule had us arriving at the airport the requisite two hours early, whereupon we were informed of an additional one hour delay.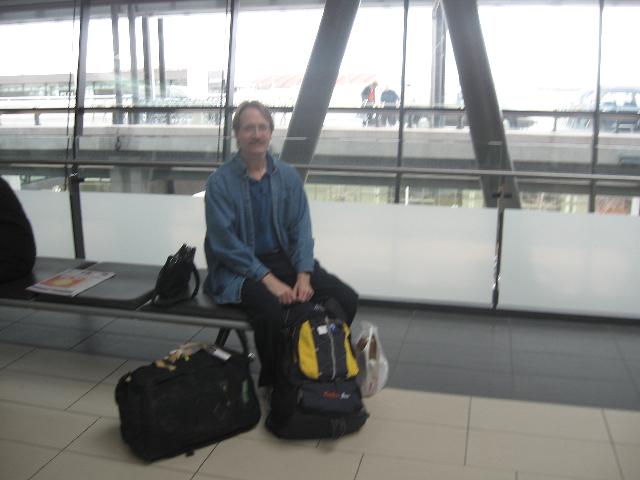 We've Arrived in Mexico!
It was pretty late when we arrived. I think Mary wore herself out during the flight, worrying about how we were going to get to our Mexican destination, Grand Sirenis Mayan Beach Hotel or some such long-falootin' name. But they took good care of us once we found the right attendant. Tourism is a big and well organized business in the Yucutan. The locals called our resort "Grand Sirenis" the whole time we were there. It's big, and a well known source of targets...er, um, tourists. (Note the conspicuous wrist bands we got to wear for the rest of the week.) Early to bed for her in the well air conditioned room, bundled up like we were in Tuktoyaktuk instead of Riviera Maya. I stayed up to get a sinus headache from the air conditioning.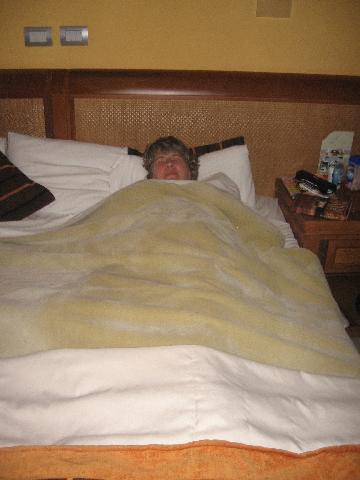 Exploring the Hotel Grounds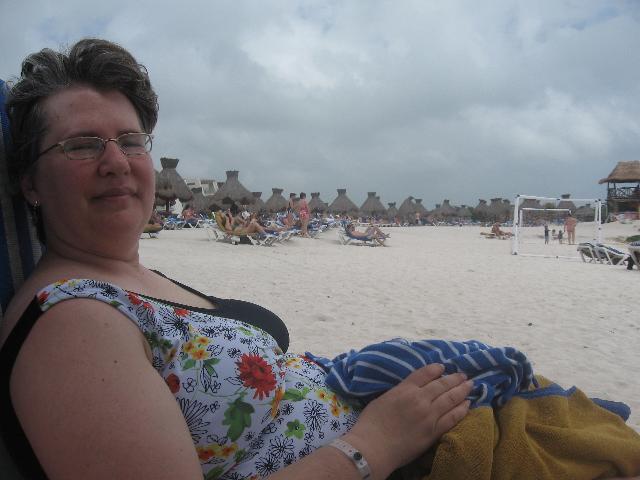 It wasn't long before we were settling in and lounging on the hotel beach. I had my first margarita ever, and thought, "Hey, this isn't bad. I can't taste the alcohol at all." Could it be that the drinks at the resort were a little on the weak side? It was quite something to just sit on the beach (cowering under the palapas from the sun) and have someone walk by and fetch another drink for me.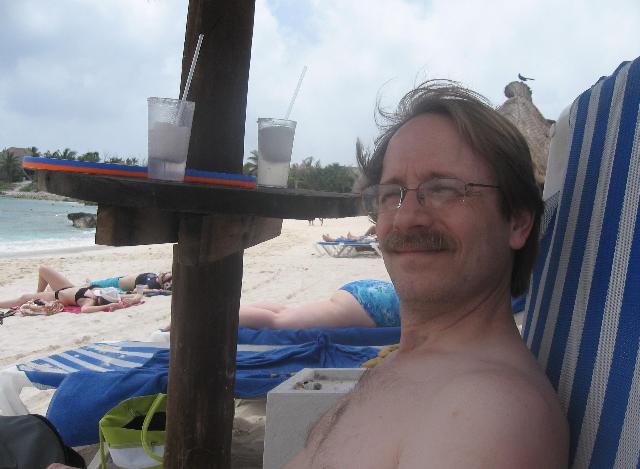 Another day was cloudy, and a trifle cool after a swim. Let's have a look around...
This is the view from my breakfast table: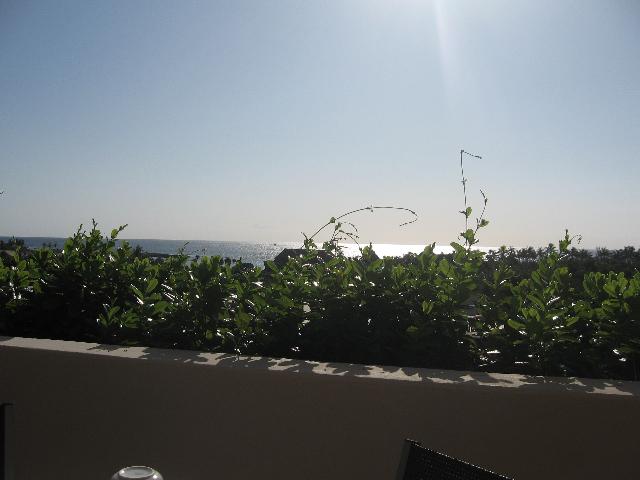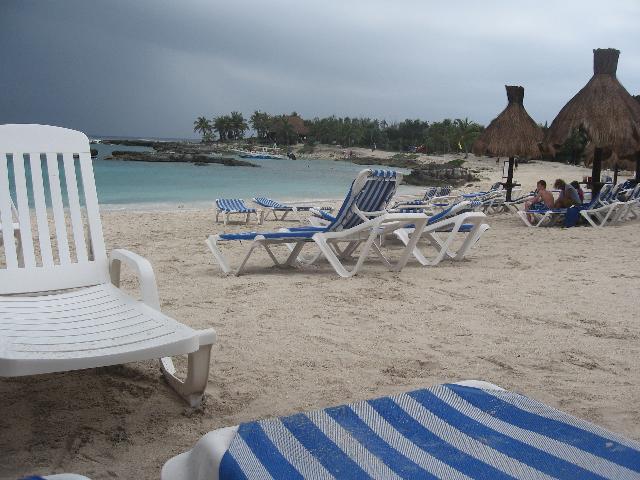 Spring breakers weren't the only animals at the resort: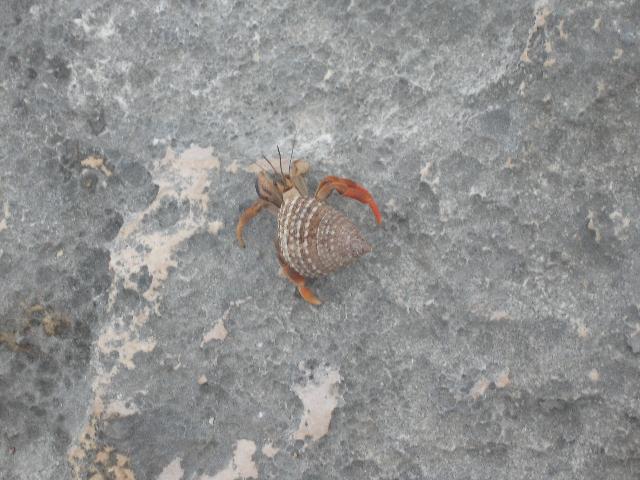 This guy was enormous, something you can't tell from the photograph. The next one was actually a baby.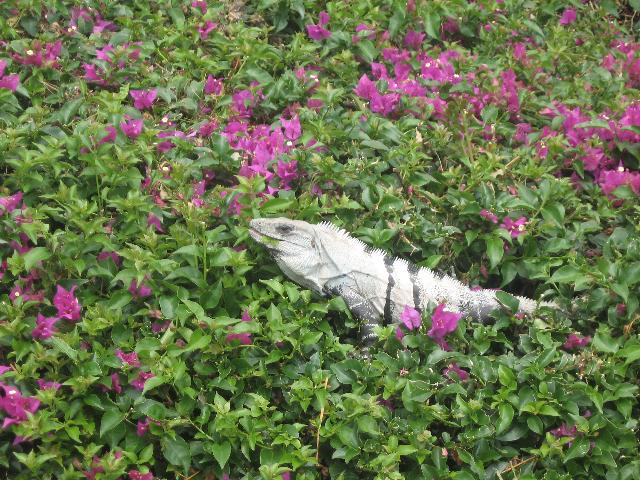 Enough of that. Time for another margarita!
Sunrise
I couldn't convice Mary to get out of bed early enough to watch the sun come up, but only those clouds could make me miss the spectacular appearance of this heavenly body. When you're that close to the equator the sun pops up over the horizon in just a couple of minutes. If you're fiddling with your camera you'll miss it. Fortunately I was fiddling with the shutter button when it happened. It would have been perfect if some big galoot didn't spoil it by shouting. Here are some pictures of it, taken approximately one minute apart.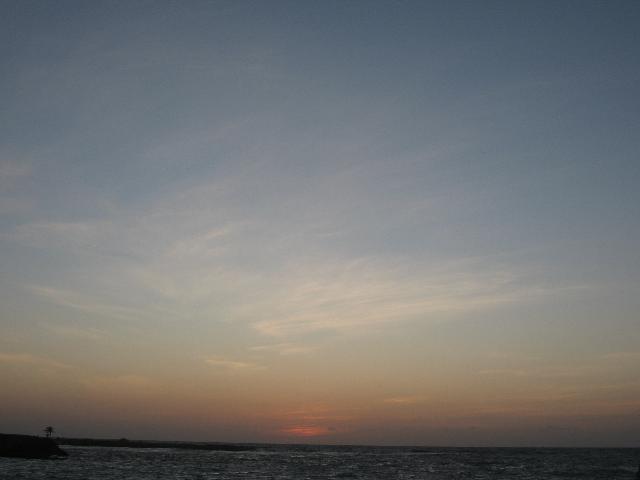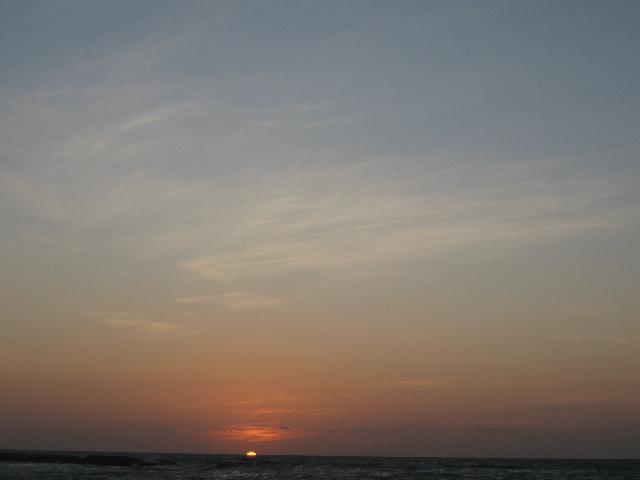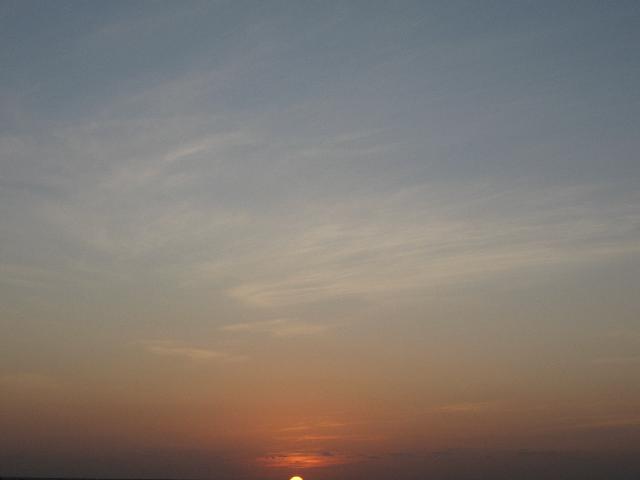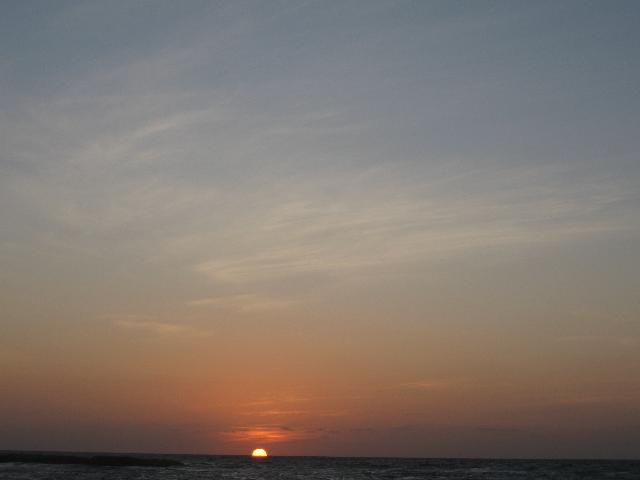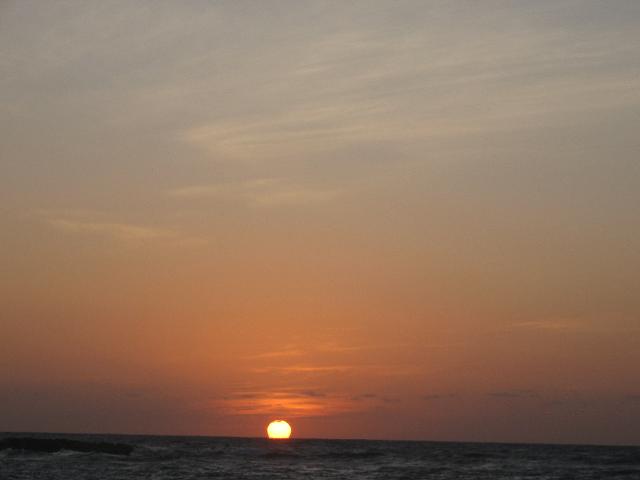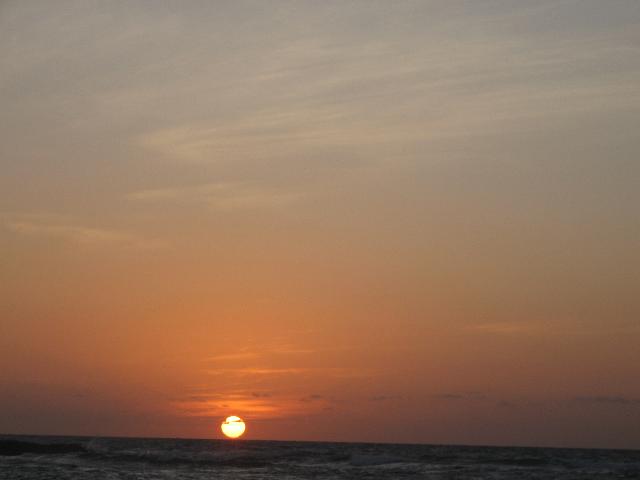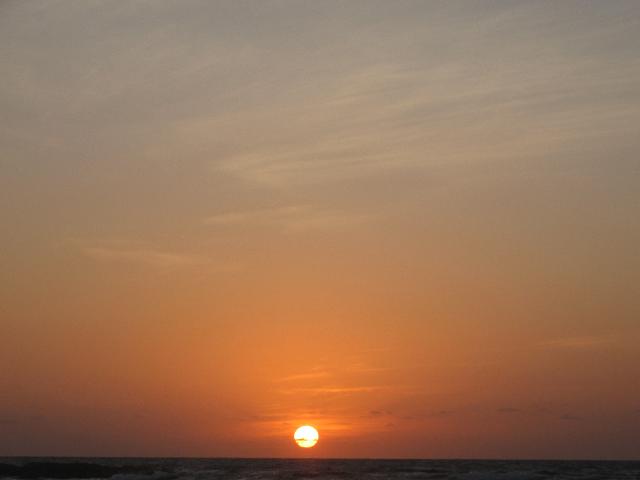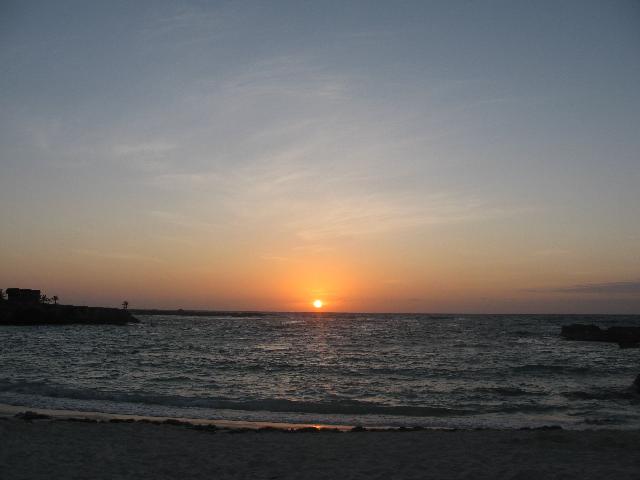 Chichen Itza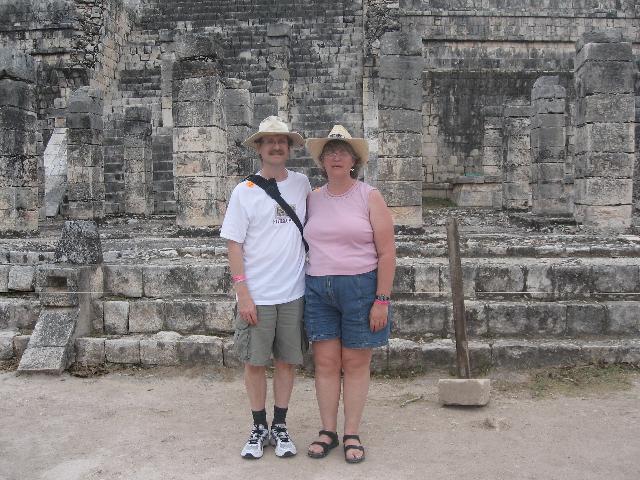 I decided I wasn't going to go all the way to Mexico and settle for second best. The most impressive Mayan ruins was declared to be Chichen Itza, and the hotel organized a tour once a week. There were other ways to get there, but I didn't want to make things more complicated than they had to be and figured this was the right time to splurge. Mary loves history and I was interested in seeing the country side.
By far the most interesting part of the all-day tour was the three hour trip there. But if I go back to that area I'll definitely just go to Tulum, which is much closer and cooler by the sea.
We stopped at a cenote, a sort of water hole or cave. The region is full of them. Mary and I opted not to go swimming, and I think we made the right choice. At that place they had people crafting silver jewelry in Mayan glyphs while you swam, but we didn't really care for the look of what they were making. The basic idea seemed pretty good though, and the jewelry appeared to be well made.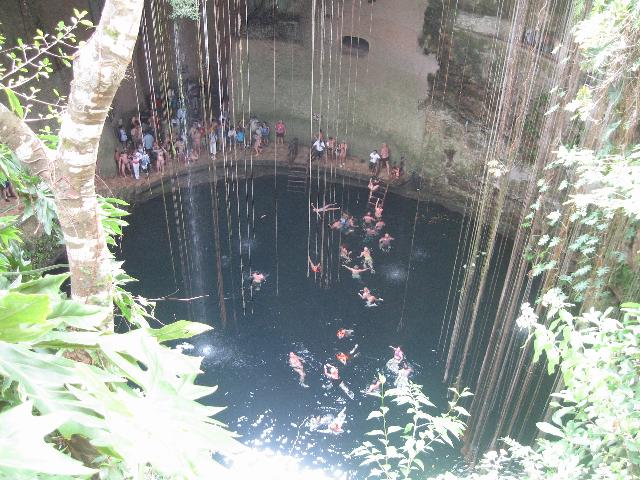 They also had a little market selling stuff we'd already seen elsewhere at 1/5 the price, so we found some shade and just waited out that part of the event.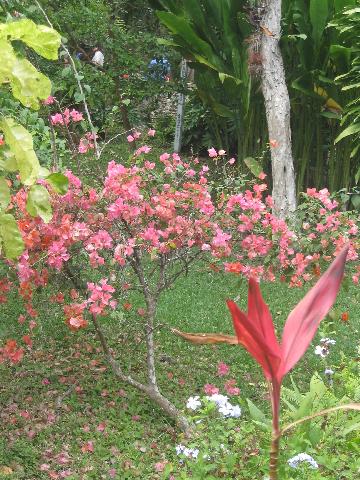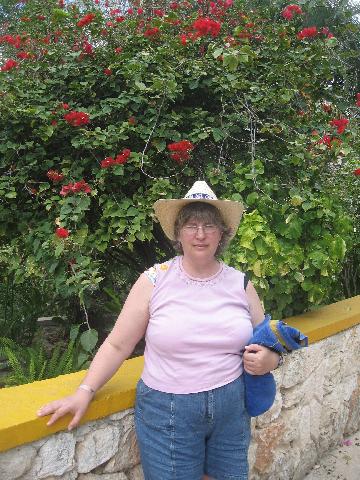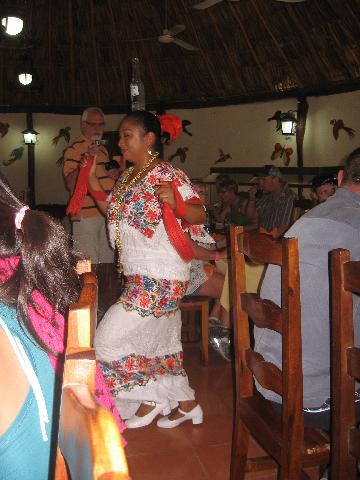 Lunch was a tasty rush on the way there, and entertainment was provided for tips. Here the dancer stomps her feet hard while balancing a bottle, then a spinning tray with three bottles on her head. As we left, a helper held out a hat with a sign that said, "Tips for the dancers." Fair enough. But every little thing the Mexicans did for us outside of the resort was followed by begging for tips, often with a sob story of how little their salary was and how the Mexican economy was based on tips. Judging from all the high quality construction I saw in the area, I realized that these are very enterprising and hard working people. But when the waiter at this buffet gouged me deeply on exchange rate because I didn't have enough pesos to pay for the water Mary ordered, my sympathies dried up. It wrecked the mood for the rest of the trip and nobody in Mexico got another coin from us until the next day.
The first thing you see when you arrive, even before the pyramid, is scads of merchants selling their wares. Some of them sell decent hand-crafted stuff, others sell poorly made (but well disguised) crap. And they hound you the whole time you're there. I know I've never said "No, gracias" so many times in one afternoon!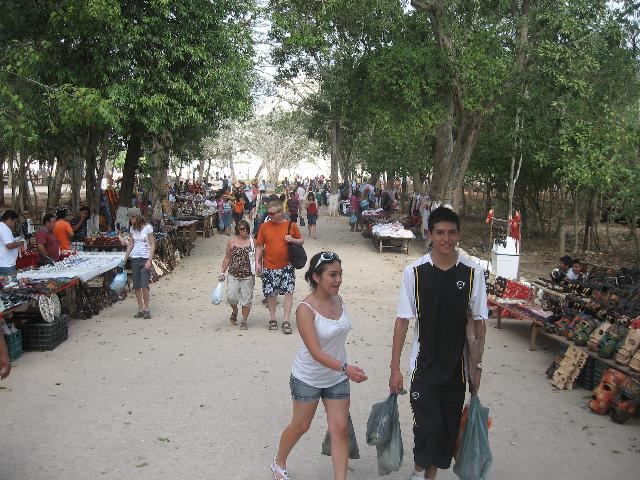 You can't really tell from this photograph, but it was blistering hot (see how happy the grass is?), and all there was to see was ruins.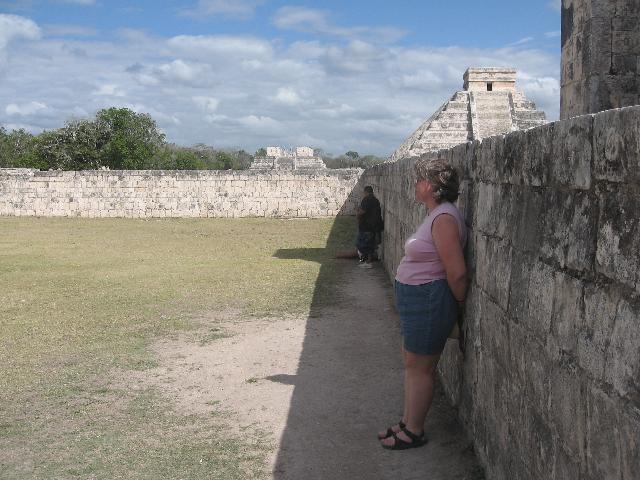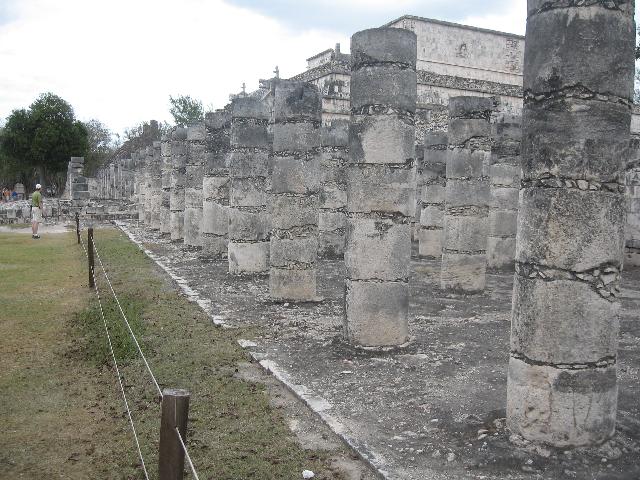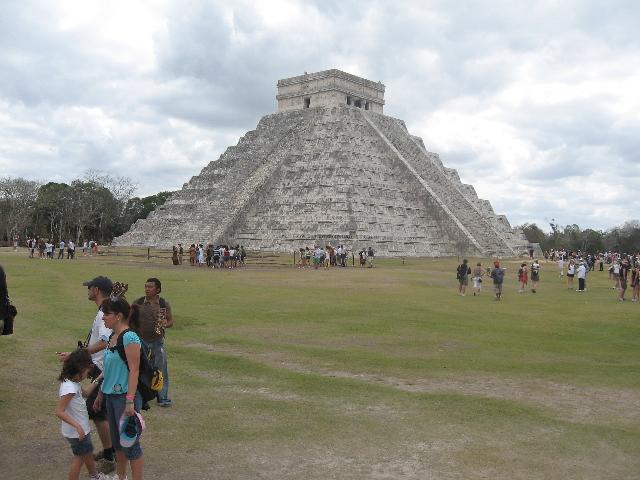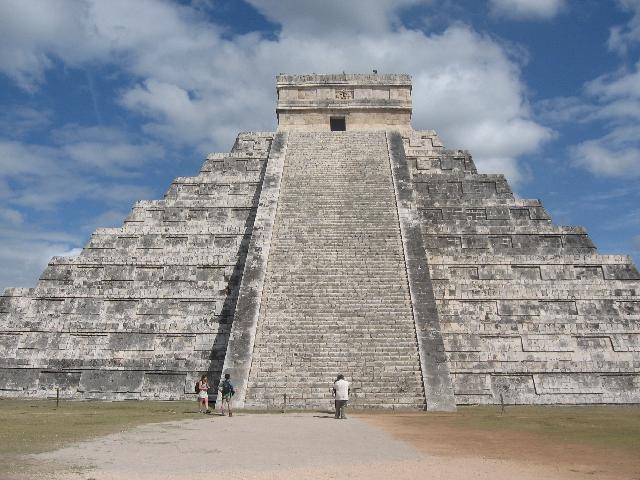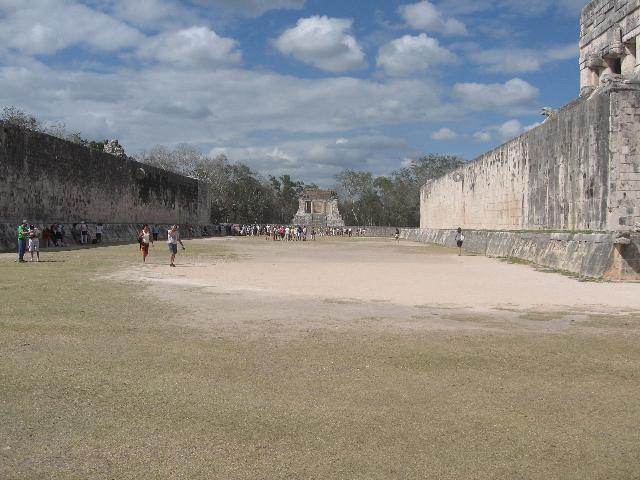 Playa Del Carmen
Playa Del Carmen was the nearest town to our resort. Mary and I fended off taxi drivers hawking a trip at us and took the collectivo, a little van-like bus. You just stand at the highway like a dork and they stop and pick you up, cramming you in with any other tourists or locals already there. It's way cheaper, and can be informative if you care to listen to the conversations. I bought a little Spanish phrase book before leaving Ottawa and I read it on the plane. It was surprisingly helpful.
Five bucks each and we were dumped near a nondescript intersection. Don't step out into traffic 'cause pedestrians don't have the right of way! I took a picture of our location, just in case, but it turned out to be unnecessary. Everyone goes to Fifth Avenue, and everyone returns from there. It's pedestrians only (except when the police ATV their machine guns through the crowd), and both sides are lined with little shops. The keepers shout out to you, declaring that they have exactly what you want, never mind what that might actually be.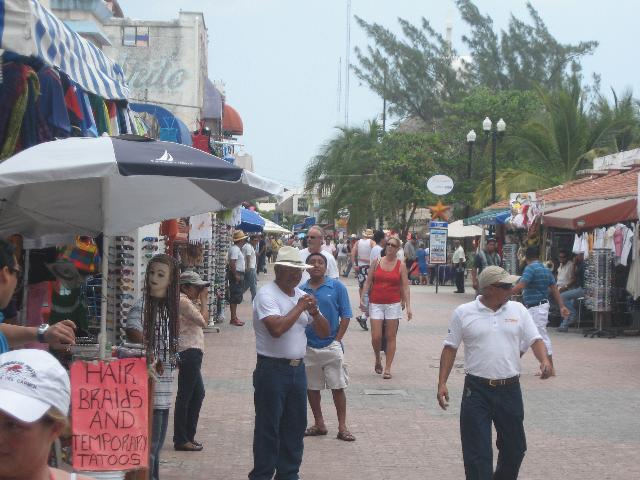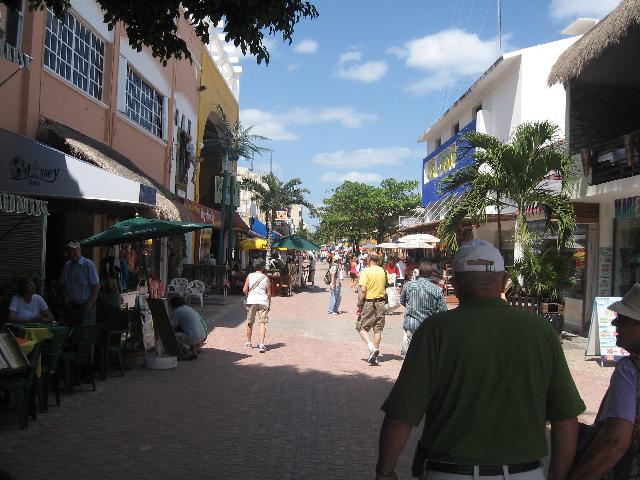 The Food
My sister Sheila was actually in this place on one of her own vacations, so I was following her lead. She recommended La Parilla as a good place to eat, so that became my goal. We achieved it with aplomb, and awarded ourselves a Mexican flag meal, way more than we could eat, and margarita in much higher form. #20, Tampiqueña. $198.00?! Holy Mackerel, Sheila! You should have warned us!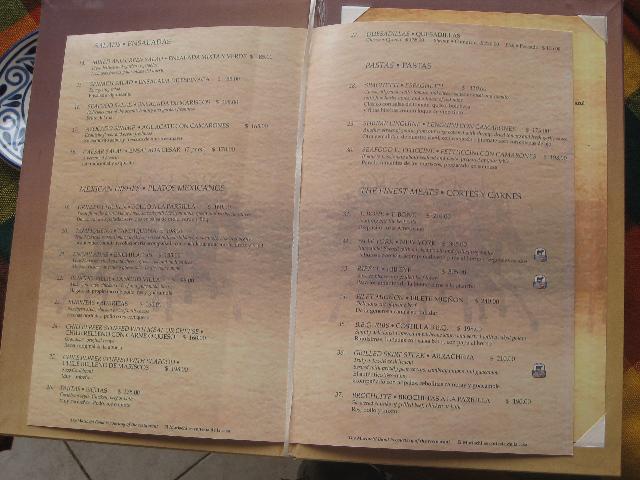 I think the food was actually dumbed down for us gringos, but it was very tasty and got no complaints from us. When the photographer came and slapped sombreros on our heads I figured it was time to have fun and we payed for the little plaster frame and picture he gave us as lunch finished up. You'll have to come visit us if you want to see it.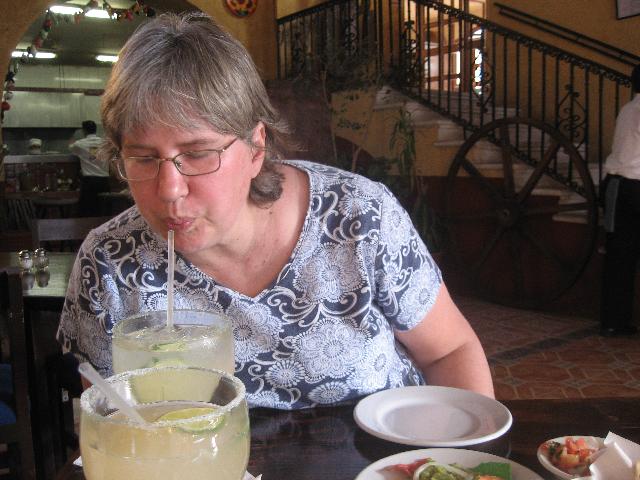 Aside from getting away from it all, the number one draw to Mexico had to be the snorkelling. After a day of rest from the plane trip, we booked a snorkelling tour to Puerto Morelos. You have to wear a PFD so you can't dive down and touch the coral. Apparently the coast guard will give you a fine if you're caught. The reef we boated out to is part of a national park and it's strictly controlled. One look underwater and you appreciate and are happy to abide by the rules. Simply incredible! We saw barracuda and a sea turtle, needle nose fish, creepy crawly starfish, an eel, myriad fish and anenomes, and of course, coral. The water was warm and relaxing, and I had no trouble keeping up with the guide (except when he took off after that turtle and I didn't think to use my arms. Once I figured out that trick I was like a marlin.)
We went to two different locations in the park and then returned to another lunch, included in the tour. This restaurent had one wall wide open to the sea, and a sign above it saying "Emergeny Exit". I had some of their habanero sauce with my fajitas, and I can tell you this time it wasn't dumbed down for us gringos! Nothing like a margarita after a swim in the sun, right Mary?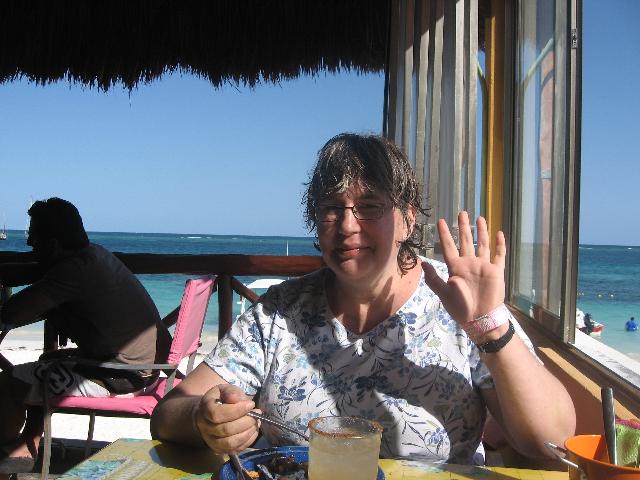 By the last day we were old pros. We took the collectivo back into town for another "authentic" Mexican lunch, and arrived at the bus to the airport right on schedule. You can't see the dodecahedra decorating the thatched roof, but Mary said I must feel right at home there. Yup! We were the only guests at that moment, on the third floor of three with tables and a view of the ocean. Watch out: cash only at this place. Good thing the Canadian dollar was almost at par with the U.S., or I might have been gouged again. By the way, Mary, what's that you're drinking?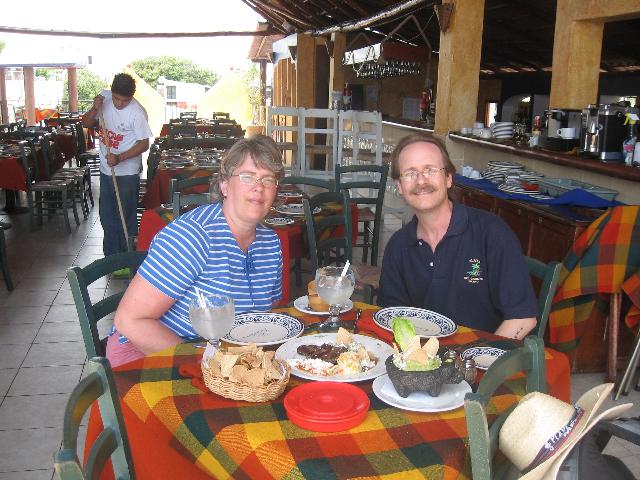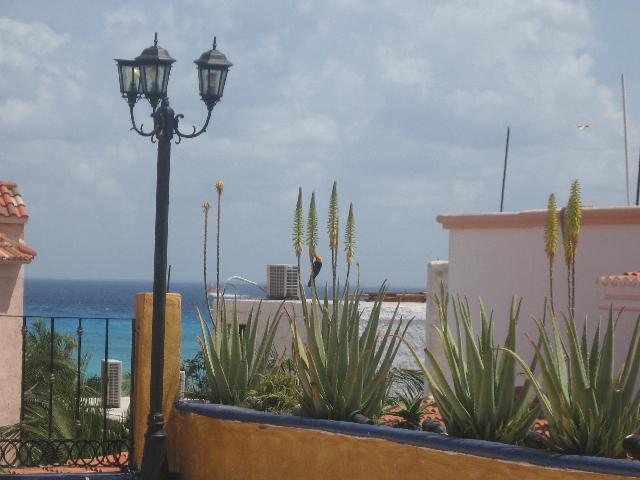 The Beach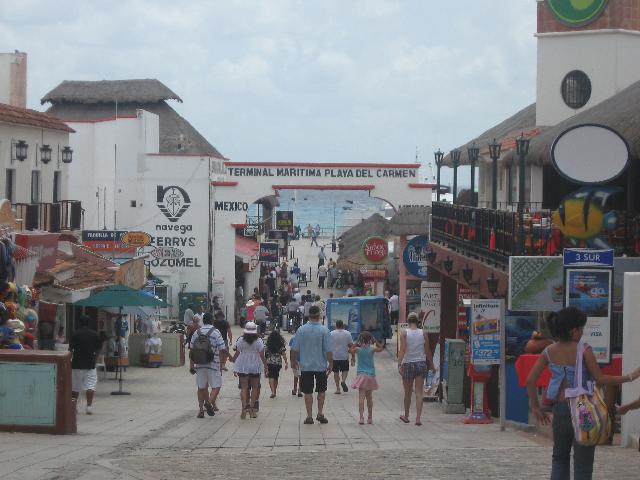 From Fifth Avenue, which is parallel to the waterline, you walk down the hill a few hundred meters and you hit sand. Playa del Carmen is aptly named. This is one of the best beaches I've ever seen, and I've been to some good ones. I wanted to just plunk down and enjoy it but I think the blistering sun had Mary a little worn out.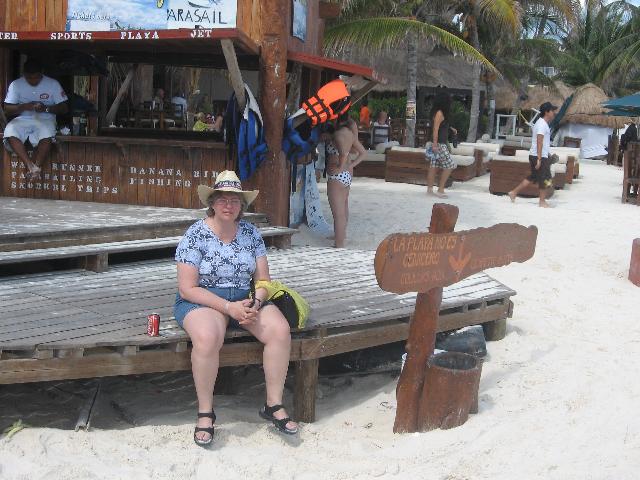 Nevertheless, after a refreshing Coke I insisted on a leisurly stroll, just to see what there was to see. Sand, umbrellas, parasoaring (I'd love to try that!), blue sky and green water.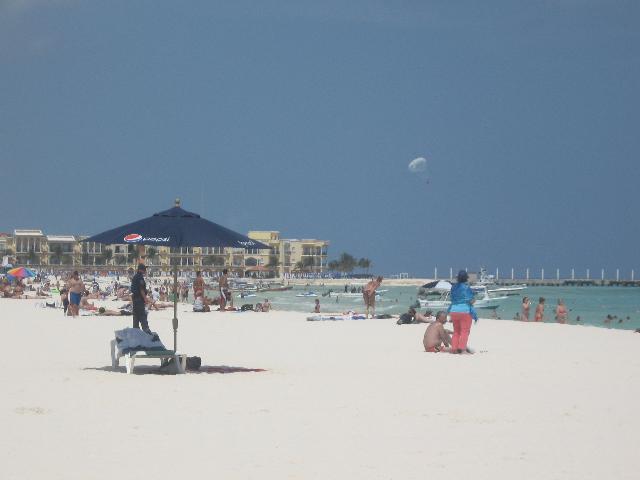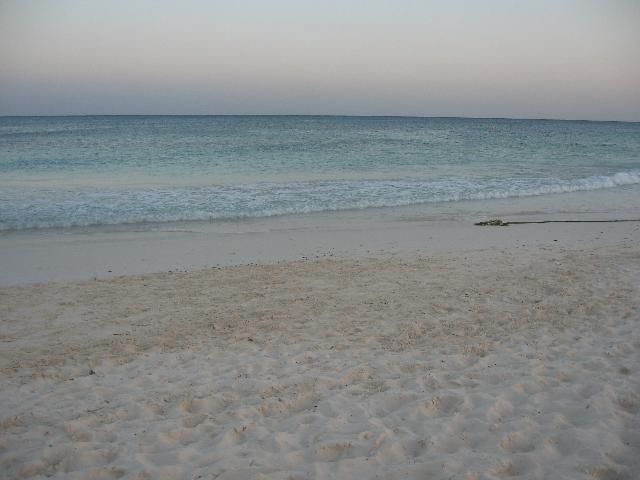 The sun wasn't the only heavenly body in this region...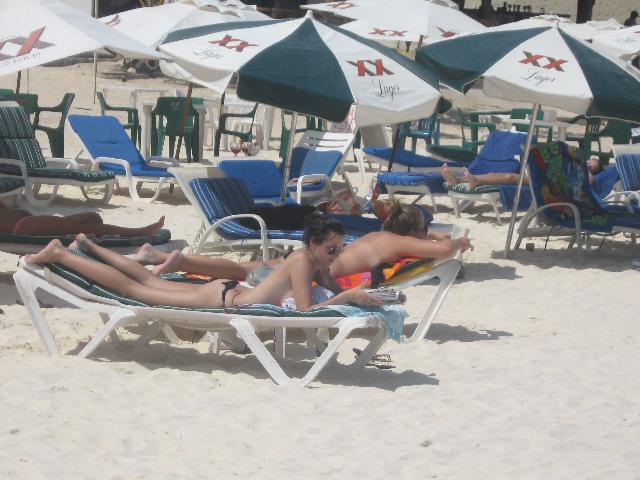 But all that heat can really wear you out. This guy never made it. I heard Coke can dehydrate you, but this is ridiculous! We need to find some shade!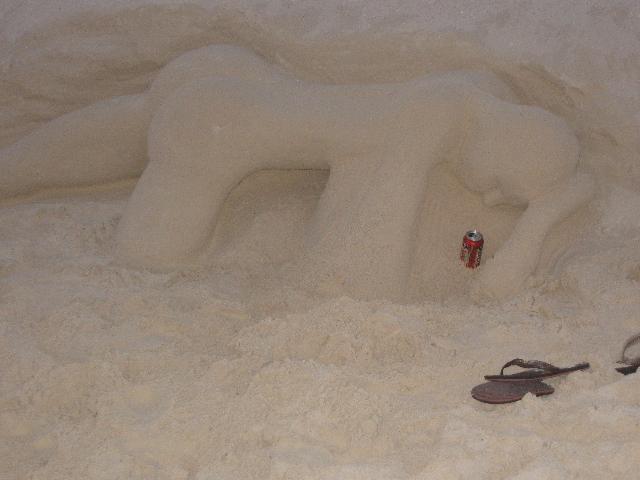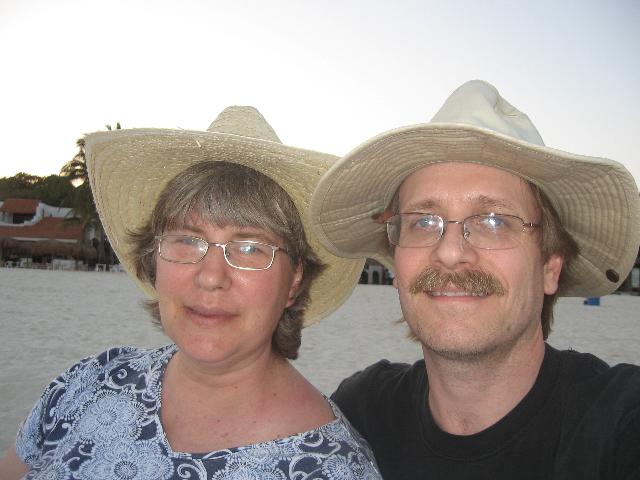 My new hobby
Fortunately the sun goes down just as fast as it comes up. We strolled around until the last collectivo run, and I added to my growing collections of signs.
We return home
Well we managed to avoid a pretty good snow storm while we were away, and now that we're all crispy and red it was time to return. Our flight arrived deep into the middle of the night, but my hero Glenn was responding to text messages as planned, and he picked us up at the airport. How many of you have a friend like this?

Apparently a few of the house rules were broken while we were away. It's going to be some time before we give the boys quite so much rope. Where is my sofa? It was two days before we had things anywhere close to being back to normal. Unlike my friends, Peter's friends completely abandoned him when zero hour arrived. I figured I'd better water the plants before I went to bed, because they may not have made it 'till morning.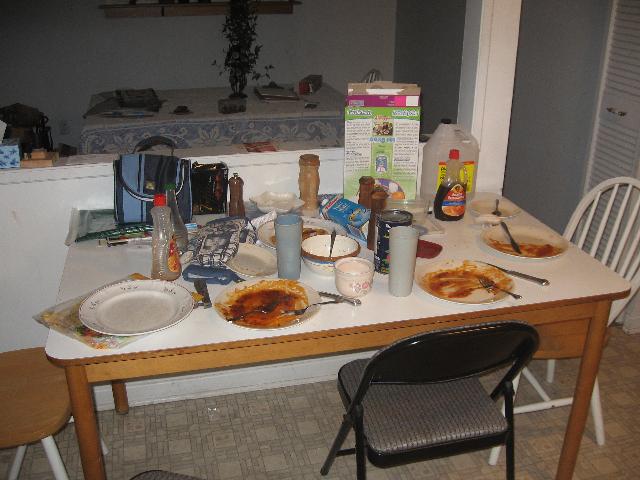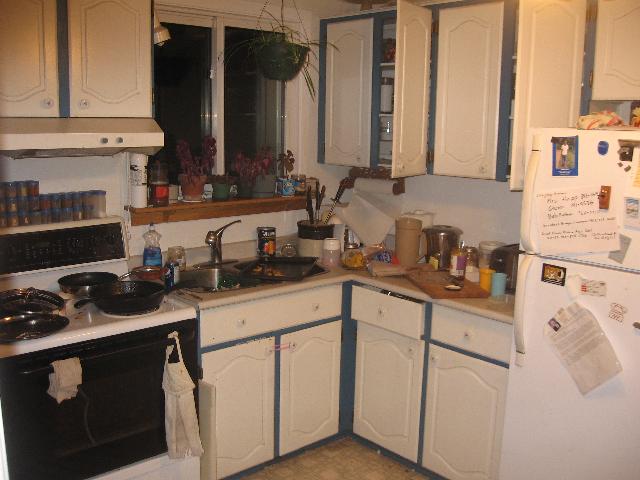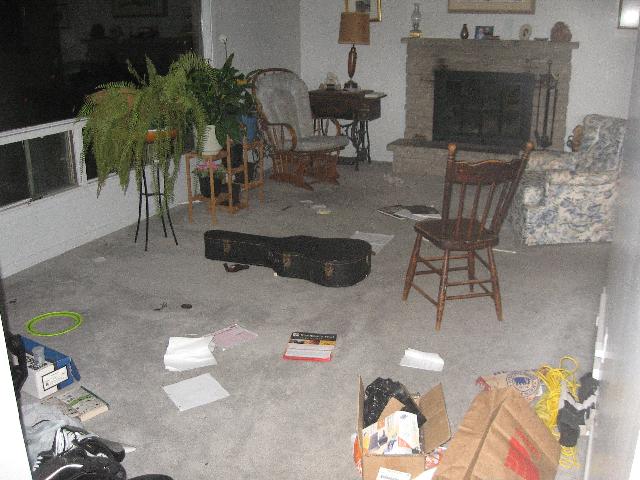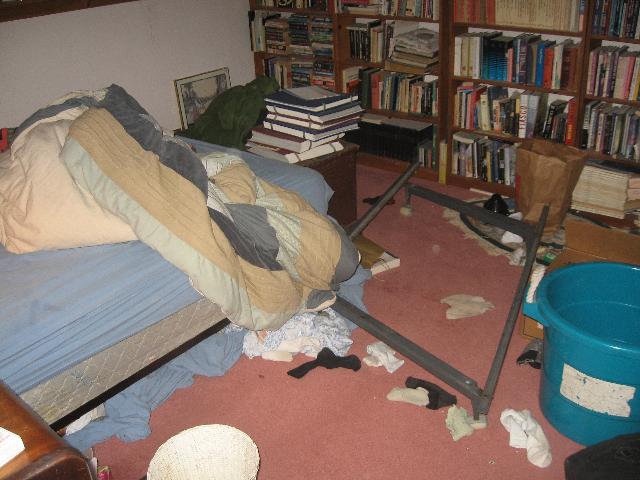 This Caribbean vacation was somewhat of a dream come true. It's going to be awhile before Mary and I can go off on another trip, but in spite of having full knowledge of what was going on at home (isn't modern communication technology wonderful?), it was a lot of fun, and I'm definitely looking forward to the next adventure, whatever it turns out to be.